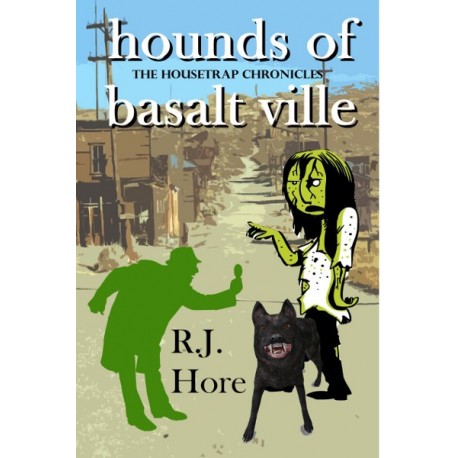 View larger
Hounds Of Basalt Ville - ebook
The Housetrap Chronicles, Book 4
Bertha's baby brother is in trouble, and she convinces Randy to help. What are a few man-eating devil hounds and an irate goddess when you are a private eye?
Warning: Last items in stock!
Availability date:
No reward points for this product.
Reviews
EXCERPT
"Okay, Boss." Bertha flung the cape over her shoulders and swept out of the office. A faint, "Good luck and thanks," drifted back down the hall as sandaled footsteps headed for the stairs.
I opened my desk drawer, took Bessie out, checked the magazine, and slipped her into the shoulder holster. The glass billyclub took up its usual station inside the sleeve of my jacket. I wasn't stretching things when I said I thought this job sounded dangerous. Murder, mayhem, and some extortion were not all that unusual in some parts of the wide wild world, and I'd heard of towns up north where the fist of the Com P.S. reached but infrequently. I really didn't like the reports of hellhounds being sighted. That touch had the smell of warped wizardry and the blackest of magic, of the bad kind that curdled your blood and separated your body parts. Certainly no place for a sweet softhearted bookkeeping banshee.
I locked the door three times, laid on a spell guaranteed to churn stomachs, and started down the hall. Edwayne's troubles were serious. I had to get there fast, and without bead and bangle-wearing secretaries. I didn't trust Bertha, so I decided I'd leave tonight. With me gone, she'd stay put.
Collar up and leaning against the storm, I headed toward the Bear and Gill. Griz had loose connections who could ship me north a lot quicker than riding a dirigible in a windstorm. The only problem with seeing Griz would be his usual volume of embarrassing questions.